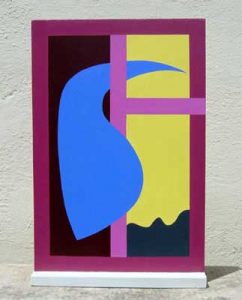 The nineties were a period when a synthesis of planar elements from all my major past work was integrated with a completely colourful palette. In my past work before the nineties, colour in its pure sense was only occasional. Now it had taken over in its broadest spectrum. The compositional structure and colour in its various degrees of saturation and tonality were assimilated into a bolder, much purer abstraction.
My solo exhibition at the University of Malta in the summer of 1995, curated by Dennis Vella (1953-2009) as part of the Evenings on Campus, and later transferred to the Council Hall in Victoria Gozo displayed a collection of such works. Apart from paintings in acrylic on canvas, works included the introduction of my concept of free-standing paintings. Included were also models of proposals for what I call large scale screens, a kind of environmental painting with an implicit 3-dimensional element.
In the catalogue published for this exhibition, I said:
"My work is fused with a contemplative element which makes the thought process imperative, while the execution is controlled and time-consuming. As regards the titles of my works, they only serve to distinguish each individual piece and are not intended to add anything more to my paintings.
Painting should not be a 'hide-and-seek' of obscure meanings on a canvas, but a lucid, unimpaired vision of the artist's inner forces, both intellectual as well as emotional, above all a direct genuine expression. Each work is part of a larger 'canvas', a composition making up the real self-portrait of the artist, his true inner-self.
In the same catalogue the late and old time friend Dennis Vella (1953 – 2009) observes:
"Camilleri's new paintings, in their colours that are both bright and instinctively combined now have the more joyous character of kites, sails and tents where the spirit can soar high above the earth or rest near the water's edge, a small but well-earned reward for a long journey which the artist could only undertake fortified by his moral certainty that art is the continuation and resolution of experience."
The late E.Fiorentino (1946 – 2008), in The Sunday Times writes, "Since Camilleri is constantly aware that paintings exist in 3-dimensional space, he strives to go beyond the mere flatness as proposed in his slick rendering of paint. To do that he paints around the edges to project the feeling of continuity in space. But more significantly he has also produced a number of free-standing constructions smaller than the paintings which hang, but which to my mind should strike the visitor not only because they look like some precious miniatures when compared to the rest, but mainly because they seem to harbour in them the seeds for further development".
Art critic E.V.Borg writes, "Alfred's work is essentially intellectual and metaphysical. It is the result of unhurried reflection, maturation of the mental process in a highly-controlled execution that needs patience, concentration and time. It is visionary and conceptual art, a mental analysis and synthesis in a perfect balance of contrasts."
E.V.Borg continues, "Alfred's idiom is abreast with contemporary expression on the continent. He seems poised to venture into unknown regions of the mind and with the mettle of a true adventurer and explorer break through the limitations of tradition and convention to attain liberty of thought and freedom of expression."
"Alfred, a quiet philosopher, is capable of taking this initiative and leap into the unknown."
–
During these years I also executed the following design projects.
The colour scheme design for the glass facade of the Carmelite Church in Fgura (1990)
Poster design for The Malta Book Fair (1994 & 1995)
Poster design for t he Karnival ta' Malta (1995)
Poster design for the Malta Union of Teachers' 75th Anniversary (1994)
Cover designs for M.U.T. publications on Education in Malta (1995)
The interior design for the presbitary in the 'Resurrection' chapel at St.Anthony's Franciscan Convent at Ta' Paris, Birkirkara (1996)
Metal crucifix for the Council Hall at the Teachers' Institute, Valletta (1996).
It was also during this period when my deep interest in the humanities led me to read for a degree at the University of Malta from where I graduated with a Bachelor of Arts in Religious Studies in 1993. My final thesis dealt with Christian Values in Modern Art, analysing international examples of sacred art and sacred spaces.